Meeting tougher maritime emissions standards
As does every sector, the marine industry faces tightening environmental and emissions legislation. Engine manufacturers and shipbuilders need to ensure they meet regulations such as International Maritime Organization (IMO) Tier III and China II.
International Maritime Organization Tier III standard
NOx emissions regulations now apply to all marine diesel engines with power outputs of 130 kW that have been installed on ships. All engines are subject to IMO Tier I and Tier II regulations, while every vessel entering specific emission control areas (ECAs) must meet much stricter targets. These tougher NOx emissions requirements will come into force in 2021 in the Baltic Sea and North Sea ECAs – they are already mandatory in the North American and US Caribbean ECAs.
China II regulation
Coming into force in 2021, the China II emission standard applies to marine engines with per-cylinder displacements of under five litres up to 30 litres, which are used on vessels that are registered in China and navigate or operate in Chinese territorial waters. This includes riverboats, coastal boats, ferries, and fishing boats. They must meet strict NOx, particulate matter (PM), carbon monoxide and methane emissions targets, while engines below 37 kW must comply with emissions standards for mobile nonroad engines.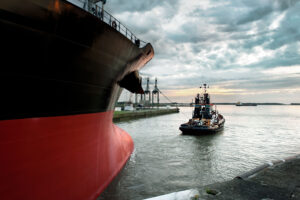 Eminox – your maritime emissions control partner
Eminox has unrivalled emissions control expertise, with over 40 years of experience in designing and manufacturing high-quality exhaust aftertreatment systems (EATS) for the marine, rail and heavy-duty vehicle and equipment sectors. We've worked with leading OEMs such as Volvo Penta to develop EATS for over 5 years. We deliver value through five key strengths:
1. Durability
Quality is at the heart of what we do. As an IATF 16949:2016 accredited facility you can be assured of the quality of Eminox products; from emissions components through to complete exhaust aftertreatment solutions. We invest heavily in the latest technology to ensure we design and manufacture consistently high-quality products to meet the standards you demand. We use computer-aided design techniques to during the development process, including CATIA V6 3D design, finite element analysis (FEA) to carry out stress and fatigue analysis, and computational fluid dynamics (CFD) to measure fluid flow, combustion and heat transfer.
2. Understanding installation constraints
We have wide experience in designing EATS to effectively reduce exhaust emissions in a range of applications and industries. We understand you are likely to have demanding constraints on space. We can work with your whole engine system design to maintain optimum thermal properties ensuring your EATS functions safely. Our ability to design efficient compact mixing techniques, optimised for the greatest uniformity indices, provides you with a solution which effectively reduces emissions and meets the latest legislative standards.
 3. Flexibility
We work with leading OEMs around the world, from concept to full production across the project lifecycle. As part of this, our in-house designers, engineers and technical professionals can offer multiple part numbers for cost-effective project solutions.
4. An end-to-end solution
Our in-house prototype manufacturing team delivers cost-effective, quality prototype systems by working alongside our engineering and testing teams. Our in-house testing facilities cover cold flow, vibration, hot and cold durability, and high cycle-fatigue testing alongside thermal imaging technology.
5. A relationship built on trust
Eminox has been established for over 40 years. We are a creative partner that delivers sustainable engineered solutions to OEMs across the globe. Our worldwide base of customers relies on our ability to understand both their needs and those of their customers. To achieve this, we ensure every stage of our end-to-end service follows the Eminox new product introduction (NPI) process. This includes complete engineering and design services across concept, in-house evaluation and modelling, prototyping, verification and homologation services. We pride ourselves on meeting your budgets and timescales.