World-first project reduces harmful emissions from diesel trains by over 90%
 Gainsborough, Lincolnshire, UK: Market Leading Emissions control business Eminox is celebrating a major win at the recent National Rail Awards. Working in partnership with South Western Railway and rolling stock assets company Porterbrook, Eminox triumphed in the Sustainable Business category at the awards, held on 17th September 2020.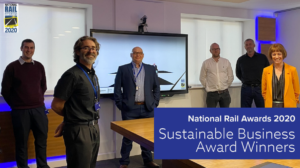 This was a collaborative six-month trial of a pioneering retrofit diesel train emissions system. It successfully reduced real-world tail pipe pollution including nitrous oxides (NOx) by over 80% and hydrocarbons, carbon monoxide and particulate matter (PM) by more than 90%.
The project, funded by InnovateUK, adapted and retrofitted Eminox's EMxS5 emissions reduction system to the exhaust of a 1990s-built Class 159 train in full passenger service between Waterloo and Exeter. It was the first time that such technology, which has been based upon Eminox's proven know-how from on road heavy-duty vehicles, has been retrofitted to a UK train, providing a cost-effective way of reducing pollution, improving air quality and fighting climate change.
While rail is one of the most sustainable forms of transport per mile travelled, nearly a third of rolling stock remains powered by diesel engines, which were built to older emissions standards. As the award recognises, the innovation is the first step in providing state of the art emissions technology to the rail industry which will enable it to meet modern emissions standards and, provides an enormous opportunity to increase sustainability and benefit passengers, staff, and the wider environment.
The National Rail Awards 2020 recognises outstanding achievements in Great Britain over the past year, with a particular focus on rewarding initiatives which demonstrate innovation and measurable improvements in performance which can be rolled out across the railway.  The Sustainable Business category was judged based on criteria such as demonstrating real understanding of sustainable development values and principles, together with passion and creativity that makes a difference to people, communities, the environment, the economy and business results.
"Winning this prestigious award reflects the innovative, first-of-a-kind nature of our project with South Western Railway and Porterbook – and the truly impressive results we have achieved as a team when it comes to reducing harmful emissions,"

"It shows the possibilities of transferring our proven retrofit technology into other areas, benefiting air quality and the environment. Given the large number of diesel trains currently operating in the UK, there are enormous possibilities to develop and deploy our technology on a wider scale, benefiting many communities across the country."

Jonathan Evans, Senior Programme Manager, Eminox.
Following the successful completion of the trial, further deployments are now likely across the UK rail network using Eminox's retrofit technology to cost-effectively reduce emissions within existing diesel fleets.